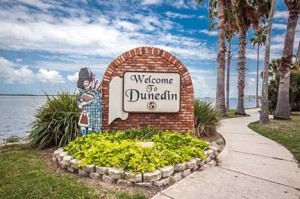 Known as "Delightful Dunedin" no area could have a more fitting nickname. With miles of scenic waterfront, Main Street is the hub for strolling and shopping, along with an extraordinary mix of every cuisine: from lively pubs serving burgers and craft beers to the famed Bon Appetit restaurant with its dazzling water and marina views.
Dunedin's downtown area plays host to lively street fairs and holiday celebrations while its residential real estate offers an interesting blend of homes encompassing both traditional and unconventional; studios to sprawling manors.
The Dunedin Fine Art Center is part of the city's heart. Just off the coastline lie the popular Honeymoon and Caladesi Islands. The city's municipal marina is the finest. Even if you don't engage in water sports, you can enjoy a lovely, lazy day watching jet skis, kayaks, and sailboats silhouetted against the azure Florida sky.